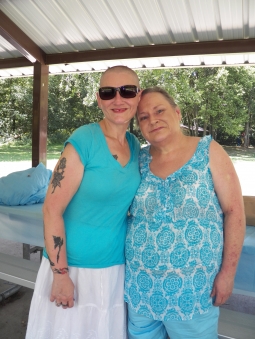 More media files associated with this campaign »
About this campaign
NEED SOME HELP FOR A FRIEND!

My friends have just experienced an unexpected death.  Martha Morris was the mother of an Army wife and only child, Amanda.  Due to disability, she had lived with her daughter and son-in-law for many years. 

A little over a week ago, Martha had a heart attack.  They rushed her by ambulance from the Army post to the nearest hospital with a cardiac unit.  It was over an hour away.  They expected to put stints in to open everything up but her heart was too badly blocked for the stints and doctors planned a triple by-pass.  Due to weakened lungs from years of battking COPD, Martha's health declined rapidly and was never able to have the by-pass thst could have saved her life.

Martha was in the hospital over a week. The drive is over an hour away from here and my friend was driving back and forth everyday, sometimes twice a day. This has made a major impact on a family with only one income and now unexpected death have only added to the costs. 

My friend is 39, but also disabled by several medical conditions. Her husband is an active duty soldier in the army, and they have two children. John currenty works 2nd shift as an armorer leaving it virtuably impossible to get an additional  jop.  

Given their financial situation they have chosen a cost-effectived cremation and will ne transporting her remains back to Texas for burial themselves.  There is no insurance to help with the expenses. The cost is $2513.50 and this is an amount that they just simply don't have. They will not release her mother's remains until the full amount is paid.

If you wish to send funds directly (GFM takes 9% of each pledge, but that's still cheaper than wire transfer), my paypal is dwbrister (at) gmail.com - please send as friend/gift so no additional fees are assessed, we're trying to make sure that as much of each gift ad possible goes to getting her mother back home as soon as possible.
Updates
No Project Feeds available
Page 0 of 1, showing 0 records out of 0 total, starting on record 0
No updates available
No contributors available
Funding closed on Friday Feb 06, 11:59 PM UTC
Contributors

0
Funding amount $

3,000.00

$

0.00
Campaign by

1 Campaign(s)
0 Donated campaign(s)
Following 0 campaign(s)
Contributors (
0

)
No contributors available
Followers (

0

)

No followers available