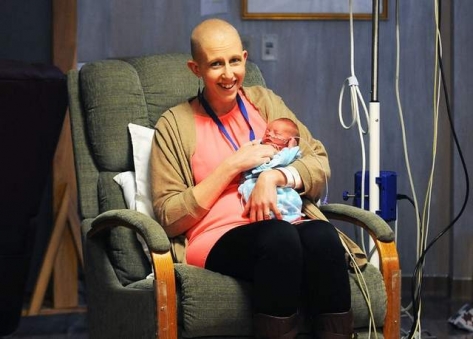 More media files associated with this campaign »
About this campaign
I chose this picture because it was the happiest moment, holding my new granddaughter and not even thinking about my count down

I look happy,  but it is crazy how things can be so different below the surface.
Just to hold my granddaughter that day made me feel happy about what the future would bring, watching her grow, watching my son be a father.

Now they are watching me die, I have been through chemo and radiation and nothing is working enough to get to remission, so here I am.

It is such an eye-opener to life when you look at it on a timeline, of 5 months left, 4 months left...

It's like you are soaking in every moment, every smile, gathering as many hugs and kisses so you have enough to take with you. 

In all, I will be okay and eventually so will all my loved ones, but the one burden I don't want them to have is a funeral. It is hard enough to say goodbye to someone you love, but to have to say goodbye and remember me by struggling in the planning of a funeral is not fair.

I should have planned,  but living on disability is not enough.
I'm 55, we should all know better and prepare ourselves, but you always think I'll do that tomorrow, or next week, it's on my list.

But then your list changes...
back to gathering all the hugs, all the little laughs, all the pictures of your family talking around a table.

So now I am asking for help, begging for your help to ease the burden of a funeral on my children and granddaughter.



Thank you for taking the time in listening and help.

Updates
No Project Feeds available
Page 0 of 1, showing 0 records out of 0 total, starting on record 0
No updates available
No contributors available
This Campaign has begun funding. ♥ $5 minimum required. Campaign ends Monday Jul 22, 11:59 PM UTC
Contributors

0
Funding amount $

5,000.00

$

0.00
Hours to go
Campaign by

1 Campaign(s)
0 Donated campaign(s)
Following 0 campaign(s)
Contributors (
0

)
No contributors available
Followers (

0

)

No followers available