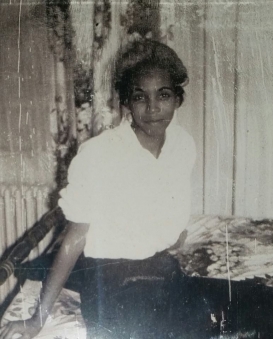 More media files associated with this campaign »
About this campaign
"Thank you to everyone who contributed to the funeral fund for my grandma. My family is so touched by the generosity and caring that went into raising over $3600 to help pay for her funeral. I know I will face a tough mixture of emotions and thoughts today as we bury her, but one thing I will not question is how blessed I am to be surrounded by so many loving and supportive people in my life. You have made today a little easier for me and my family." - Bernard
************************
Dear friends and family, I'm asking for your help. The life insurance policy that we thought would cover the costs of burying my grandmother, Gladys Combs, turned out to be expired. We need help with the rest of the roughly $9,000 needed for the funeral. Any help would be appreciated: $5, $15, $25, or whatever is in your heart to contribute. And even if you can't help monetarily, thank you so much for all of your thoughts and prayers.

If you would like to contact the funeral home directly to contribute, please contact Bliley's Staples Mill Funeral Home at 804-355-3800 and tell them you would like to contribute to the funeral of Gladys Combs.
************************
Gladys Combs was called home December 14, 2014. The beloved mother of 13 is survived by Samuel, Deborah, Donald, Anthony, Brenda, Michael, Vernon, Kenneth, Denise, Robert, and many grandchildren, great grandchildren, and great great children.
************************
The viewing will be held 10:00 A.M Monday, December 22, 2014 at Bliley's Staples Mill Funeral Home, 8510 Staples Mill Road, Richmond, VA 23228. The ceremony will follow afterwards in the same location at Noon.
************************

FUNERAL EXPENSES: $2395 - Basic Services of Funeral Director and Staff / $895 - Embalming / $275 - Dressing, Cosmetology, Hairdressing, and Casketing / $860 - Equipment and Staff for graveside/burial ceremony / $375 - Transfer of remains to the funeral home / $375 - Hearse for funeral service / $2595 - Casket SO1 Carnation Blush / $300 - Wilbert Special Vault / $140 - Basic ceremony card package / $48 - Four death certificates / $100 - Clergy Honorarium / $250 - Richmond Times Dispatch - Obituary / $161 - Virginia Sales Tax / $438 - FuneralFund Fee (5% of the money raised is taken out by FuneralFund) / $314 - Paypal Transaction fees (estimated - Paypal charges a 2.9% fee by $0.30 per transaction) / $79 Overage for any additional costs or fees
Updates
No Project Feeds available
Page 0 of 1, showing 0 records out of 0 total, starting on record 0
No updates available
Funding closed on Monday Dec 22, 11:59 PM UTC
Contributors

72
Funding amount $

9,600.00

$

3,680.00
Campaign by

United States
Richmond, United States
1 Campaign(s)
0 Donated campaign(s)
Following 0 campaign(s)
Followers (

0

)

No followers available