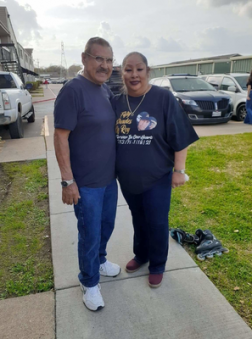 More media files associated with this campaign »
About this campaign
Our Mother, Elvira Aguilar went to be with Lord on April 14, 2021, just 13 days after her husband Abel. There have been 3 family members lost in the last 3 weeks. Our family is understandably devastated by such a loss. After fighting so hard from Covid complications, we find some peace of mind knowing she is no longer in pain or suffering. Viewing will take place at Stepping Stone Funeral Home between the hours of 6-8 pm on April 21, 2021. Viewing and final goodbyes to our Mother will also take place starting at 9 am on April 22, 2021. We would be honored if you would join us in the funeral service to honor our beautiful Mother on April 22, 2021 at 12 pm. Many have reached out and asked how you can help us during this time. Know that your kindness is much appreciated as we navigate this heartbreaking moment. Any thoughts, prayers and monetary blessings are greatly appreciated. Monetary gifts would go directly to the funeral home to help us fund the funeral services. Blessings may also be dropped of directly to Stepping Stone Funeral Home 215 S Broadway St. LaPorte, Texas 77571.
Thank you again for supporting us during this time.
With Love and Appreciation,
Mary, Chris, and Andrew.
Do not be anxious about anything, but in every situation, by prayer and petition, with thanksgiving, present your requests to God. 
Phillipians 4:6
Updates
No Project Feeds available
Page 0 of 1, showing 0 records out of 0 total, starting on record 0
No updates available
This Campaign has begun funding. ♥ $5 minimum required. Campaign ends Saturday May 01, 11:59 PM UTC
Contributors

21
Funding amount $

8,000.00

$

3,665.78
Hours to go
Campaign by

United States
La Porte, United States
65 Campaign(s)
2 Donated campaign(s)
Following 0 campaign(s)