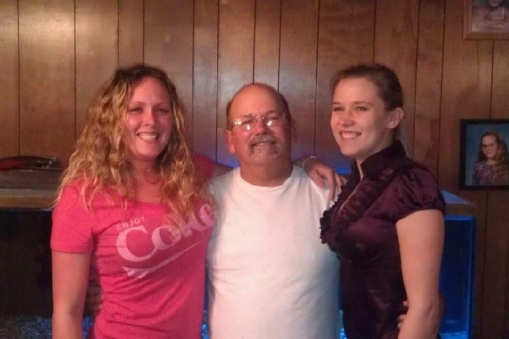 More media files associated with this campaign »
About this campaign
My dad, Darin Brodie, was shot and killed by his estranged wife Friday, November 22, 2019 at 11:41am at their place in Conroe, Tx. There is still an on going investigation. Legally, they are still married so she is his next of kin. The large majority of people who knew my dad believe there was foul play. 
My dad kept us updated and had informed my sister and I that he recently changed his Last Will and Testament to reflect my sister, Melissa Brodie, as the executor of his estate. We do not have access to his will as of now due to his wife neither claiming nor releasing his body so that we may put him to rest and have a death certificate. Many things still remain up in the air a whole week after his passing. 

My sister and I choose to create a funding source to assist with all of the upcoming legal costs, his potential burial/cremation and his Memorial. 
We plan to have a Memorial at The Eagles Lodge as soon as we have more direction.
We chose to use the funeral home's funding source instead of a GoFundMe for several reasons. The main ones being that all funds will go directly to the funeral home and they will pull from that account to pay anyone directly versus it coming to my sister or myself. 
If you choose to donate, you have the option of doing so anonymously. We do not have a set amount because the legal fees will be ongoing and there is no way to calculate the cost. If his wife signs his body over to us, we will be handling his funeral arrangements.  He wanted to be cremated and have his ashes spread over the water like his father and mother. That is also where he spent most of his free time, on the water fishing or teaching everyone how to kneeboard. 
Darin Brodie was a former United States Marine in special forces Recon and served in the military towards the end of the Vietnam War. He was 64 at his death and was set up physically to outlive all of us, having successfully addressed every medical issue he had, from surgeries to exercise to eliminating his diabetes. 
He has two biological daughters, Jessica Brodie 36, and Melissa Brodie, 32, who is engaged to Brady Gallentine, 32, and two step children which he took care of as if they were his own, Allissa Phillips, 30 and Timothy Maggio, 21 who is married to Jessica Maggio, 22. He also had many other children who referred to him as their second dad. My dad was gifted four grandchildren, Brodie Schnelle, 13 Dakota Gallentine, 6 and Scarlett Gallentine 2, and one step grandchild Lillian Phillips, 3. He absolutely loved helping people, especially if they were willing to help themselves. My dad had more friends at the time of his passing than most people could claim in a lifetime. 
His first love was fishing, second love was my mom who he remained married to for 27 years until he met his current wife, whom he also loved and desperately tried to help. My dad also had a passion for animals, of any type, more specifically cats and dogs. We used to vacillate between calling him Dr. Dolittle and Steve Irwin. Right before his death he was bragging at how he was feeding the neighborhood raccoons and how they had become so trusting of him he was able to pet a few. And they all had names. We thought he was nuts. Haha. 
The man could also fix or build ANYTHING. Unfortunately, he never got the chance to finish his project we all refer to as 'The Arc'. It is an aluminum boat sitting in front of his house that he has been constructing for 20+ years and we jokingly call a LaPorte landmark. 
Anything you can do helps. If you cannot donate but still want to help, there will be plenty of chances when we have the green light to sort through all of his personal effects and clean his house. 
Thank you all SO VERY MUCH for all of your support. 
Jessica and Melissa Brodie
Updates
No Project Feeds available
Page 1 of 1, showing 2 records out of 2 total, starting on record 1
A Memorial/Celebration of Life will take place on January 18, 2020 at Eagles Lodge 2753, La Porte, TX at 3 PM.  More details will follow.

Page 0 of 1, showing 0 records out of 0 total, starting on record 0

No comments available

Please login to post comment

A Memorial/Celebration of Life will take place on January 18, 2020 at Eagles Lodge 2753, La Porte, TX at 3 PM.  More details will follow.

Page 0 of 1, showing 0 records out of 0 total, starting on record 0

No comments available

Please login to post comment
This Campaign has begun funding. ♥ $5 minimum required. Campaign ends Saturday Jan 25, 11:59 PM UTC
Contributors

13
Funding amount $

50,000.00

$

2,116.00
Hours to go
Campaign by

United States
La Porte, United States
51 Campaign(s)
2 Donated campaign(s)
Following 0 campaign(s)