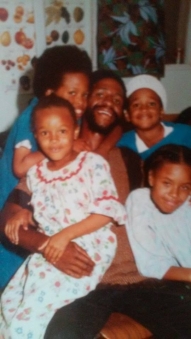 More media files associated with this campaign »
About this campaign
Dear Family and Friends,
As some of you may know, my children's father, Charles L. Hubbard Jr,. also known by his Hebrew name, Ephraim Ben Israel, transitioned from this life on January 19 in New Haven, CT following a short illness.  In order to be close to him during his illness and transition, his children who were able, continued his legacy of 'family first' and made many sacrifices to be by his side. For those who knew Ephraim, there was nothing he loved more than having his family with him.
We are requesting support to help defray some of their debt and lighten some of their burden at this very sensitive time.  Through this site you can donate from $5 and up (anonymously, if you like).  Your gift will go directly and immediately into my account so that the funds can be used as soon as possible.
The Visitation is this Saturday, January 31 from 8 - 9 AM at the Howard K. Hill Funeral Services in New Haven. Services will follow immediately.  However donations can be made through February 11th.
If you knew Ephraim personally and have a story about him that you would like to share with his family and loved ones, please write in the "Comments" section (select the tab above). It will be a soothing balm and wonderful memorial in the days to come.
Please share what you can. Every gift will be gratefully appreciated.  And please let us know if you have any questions.
With much love and eternal gratitude,
Yeeskah (Donna) Radcliffe
Updates
No Project Feeds available
Page 0 of 1, showing 0 records out of 0 total, starting on record 0
No updates available
Funding closed on Thursday Feb 12, 11:59 PM UTC
Contributors

6
Funding amount $

3,000.00

$

180.00
Campaign by

1 Campaign(s)
0 Donated campaign(s)
Following 0 campaign(s)
Followers (

0

)

No followers available