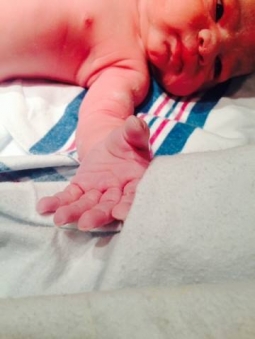 More media files associated with this campaign »
About this campaign
Tiny Angel
For brief and fleeting moment, an angel touched the ground;
With tiny wings and halo, and sweet, soft angel sounds.
Blessing the lives of others, in beauty and in grace;
Those who saw the angel, knew God had kissed his tiny face.
The angel came for reasons we may not understand;
A journey brief, with gifts so great, and guided by God's hand.

So, rest now tiny angel, your work on earth is through;
In the beauty of God's perfect love we saw His gift in you. 
Author Unknown
Our precious Zuri was born on October 20th, 2014 at 11:24 pm she was only three weeks old when she suddenly passed away in her sleep on November 11th, 2014.
She leaves behind her mother Sheila, and her two older sisters, Tatiana and Jayla.
We are in need of any and all miracles to help cover the cost of laying her to rest ~ all donations will go DIRECTLY to her funeral.
We thank you so much in advance for your support.
Updates
No Project Feeds available
Page 0 of 1, showing 0 records out of 0 total, starting on record 0
No updates available
No contributors available
Funding closed on Wednesday Nov 26, 11:59 PM UTC
Contributors

0
Funding amount $

5.00

$

0.00
Campaign by

1 Campaign(s)
0 Donated campaign(s)
Following 0 campaign(s)
Contributors (
0

)
No contributors available
Followers (

0

)

No followers available