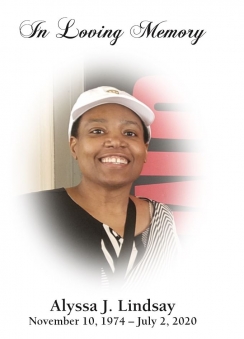 More media files associated with this campaign »
About this campaign
Alyssa graduated from Abington High School in 1992 and worked over 20 years in the merchandising field.  However, her passion was for the entertainment industry. She was well-versed on movies and television shows, old and new, especially romances. She went to see many Broadway shows, and enjoyed collecting Hollywood memorabilia and keepsakes. She also possessed an impressive array of collectible Barbie Dolls.
She was a wonderful gift giver and would have been a fantastic personal shopper.  She always went out of her way to find the exact right present knowing it would bring the person joy.
Alyssa was a welcomed companion to her mother; living together, they provided constant support and company for one another. Their special bond makes her untimely parting most difficult for a parent to bear.
She was a highly intelligent, sensitive soul, who loved to laugh. Unfortunately, she also had emotional setbacks preventing her from living her life as fully as she dreamed. The loss of so much potential, is also deeply felt.
In addition to her mother, she leaves behind a brother Adam Lindsay, three sisters, Lauren Coleman, Le Anne Lindsay, LeVonne Lindsay, an Aunt "Knuckie" Delores Richardson.
We take comfort in believing her soul now joyfully abounds with the Lord, free from all fears and worries.
Updates
No Project Feeds available
Page 0 of 1, showing 0 records out of 0 total, starting on record 0
No updates available
No contributors available
This Campaign has begun funding. ♥ $5 minimum required. Campaign ends Wednesday Jul 29, 11:59 PM UTC
Contributors

0
Funding amount $

2,500.00

$

0.00
Hours to go
Campaign by

1 Campaign(s)
0 Donated campaign(s)
Following 0 campaign(s)
Contributors (
0

)
No contributors available
Followers (

0

)

No followers available